Speedtek Performance was founded in 1998 with the goal of providing old fashion, hands-on service and the latest in cutting-edge high performance engineering to their clients. Those same goals still exist to this day with hundreds of satisfied customers who expect the best for themselves and their cars.

One of the keys to success in this business is getting to know and fully understanding who your customers are and what they expect. They expect you to treat them and, more importantly, their cars like they are one of a kind. We understand this and make it our main objective on a daily basis. Whether you are an experienced racer from back in the day or a new one looking to break in to the scene, you will receive the same personal and professional service from us.
Another important area that sets us apart from the rest of our competitors is our personal involvement in the sport of racing. Whether it is a local drag strip, circle-track, or major speedway, you will find us there.

You see, there are quite a few automotive parts and service companies out there who do not even own a high performance car let alone race them. Yet, they expect you to buy parts from them without them having any sound knowledge of how the parts might perform or work. Not with Speedtek! Our technicians are always training and staying current with the latest trends and equipment on the market. We work with and listen to our clients to better help them get exactly the performance they want and expect.
You might ask how all of this benefits you? All of the testing and knowledge we gather is passed on to you. This in turn saves you time and more importantly money! Lets face it, there are thousands of parts out there, some that work and some that don't. We will do our best to provide you with all the information we can so when you buy something from us you can walk out the door knowing that you have spent your money on something worth while.

Speedtek also stands behind everything they do. We offer a complete warranty on all parts and service. We understand all too well that parts fail and things happen. So you can feel confident that if something goes wrong, we will be there to take care of the problem. Your complete and total satisfaction is what we expect from each and every customer.

So, if you are the type of person who takes a great deal of pride in your car or truck and expects first rate professionalism with a company that understands fully the products and services they sell, then Speedtek Performance is the place for you!
We look forward to serving you and your car...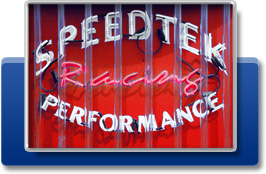 Copyright © 2004-2013 Speedtek Performance. All rights reserved.
Web Design by Cubed Creations.